Maldives Coco Bodu Hithi Resort is locally owned and operated and only a 35-minute boat ride from the airport, which is located on the mainland. The resort includes 100 villas that take up the entire island and house less than 250 people at maximum capacity.
The resort sits in a different time zone from the rest of Maldives, so there is an extra hour of daylight to enjoy each night. We stayed in one of the divine water villas at Maldives Coco Bodu Hithi Resort. Upon arrival, we were greeted by our butler who had a bottle of complimentary champagne chilled for us in our room.  He showed us around the space and was on call 24/7 for our entire stay.  
Our first night there I had a fever (I came down with a virus on the journey over).  He brought extra blankets to our room and offered to take me to the resort doctor. Fortunately, I recovered quickly and was able to enjoy our vacation.
We loved all that Maldives Coco Bodu Hithi Resort had to offer:
– A huge and delicious breakfast buffet featuring American, Indian, Asian, and Maldivian cuisine.  
– A happy hour cocktail and light hors d'oeuvres. The mixologist was amazing and served us the most balanced and delicious mixed drinks we've ever tasted.
– A plate of fresh cut fruit brought to our room each morning when they cleaned.  
– A bowl of fresh whole fruit and a selection of tea, coffee, and bottled water in our room.
– A 15-minute neck and shoulder or foot massage at the spa.
– An introductory scuba diving lesson.
– Snorkeling equipment so we could snorkel off our private back deck anytime we wanted.
– A private ocean-side yoga session.
The view from our bed was peaceful and relaxing. We could have laid there all day enjoying it.
The view from our indoor shower was equally as stunning. (We also had an outdoor shower in our villa!)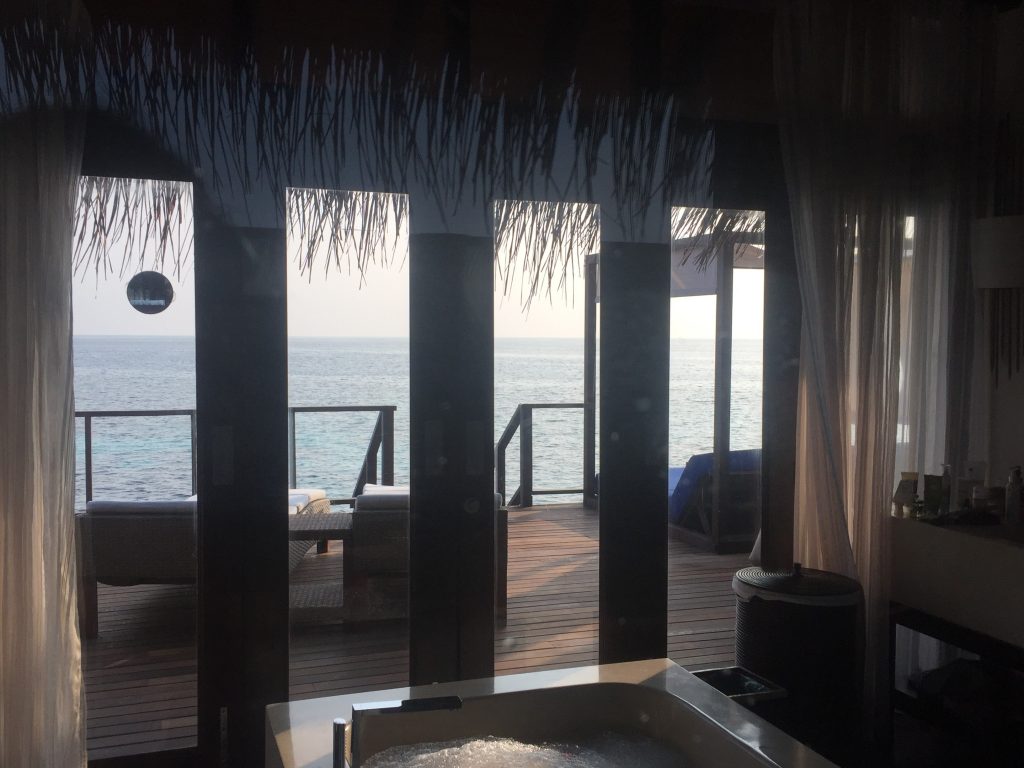 The couples massage we indulged in at Maldives Coco Bodu Hithi Resort's award-winning spa started out with a foot soak, then the massage, then a shower, then a flower petal bath overlooking the ocean while we sipped on coconut water from fresh coconuts. Under the face cradles on the massage tables was a glass floor creating the effect of a natural aquarium.
Resorts often way overcharge for spa services and don't always have the most highly skilled massage therapists, but our couples' massage package was affordable at $140 USD for the two of us and well done.  

The Coco Bodu Hithi Resort has five different restaurants, and although the food is expensive (which is true of all the resorts), it is quite good. Chefs are accommodating to special requests and offer many gluten-free options.  
The service throughout the Maldives Coco Bodu Hithi Resort is outstanding!  They take exquisite care of their guests. 
Because Maldives is an expensive adventure, it would be wise to hire a travel agent to help you choose the resort that's best suited for your desires and budget and to arrange all of the details including transportation. They'll save you money, time, hassle, and they'll ensure your trip is the absolute best it can be.  
To find your travel agent, use our directory by clicking here. 

Get Your Packing List
for a Paradise Vacation in Maldives
What you need and what you should leave at home.
---
---